Help users help themselves, and if needed find out how to contact IKEA.
The project in short
The Contact us routing solution was designed and developed for IKEA* starting winter 2021. In the project, my role as the only UX designer in the team included tasks such as:
UX research
Prototyping
User testing
UI design
Performance follow up
Presenting for management, introducing stakeholders etc
* In reality Ingka, IKEA's largest retailer that accounts for 85% of total sales volume.
The challenge for IKEA
The shift in customers' shopping behavior, in combination with the pandemic and IKEA's focus on online sales, created a large increase in contacts to the Customer Service Centers. There was a great opportunity to help users to help themselves – by using existing self-service tools or to find information that would solve the issue they had.
From a concept to a released product
Concept: Steer users to the best contact method
If we could help users to help themselves, especially on more simple issues, it would free up time for co-workers to help out on more complex issues. Only if needed we could tell users how to contact IKEA. This would in the end create more happy customers.
Research: The user's mindset – "I need to contact IKEA"
As an example, there are multiple ways for a customer that has ordered something online to find out the status of their order:
follow the link in the order confirmation email
search for "order tracking IKEA" on Google
visit IKEA.com search for the Order track ng page
visit IKEA.com and browse to the Order tracking page
But users also end up in the mindset that they "need to contact" IKEA and start looking for contact details.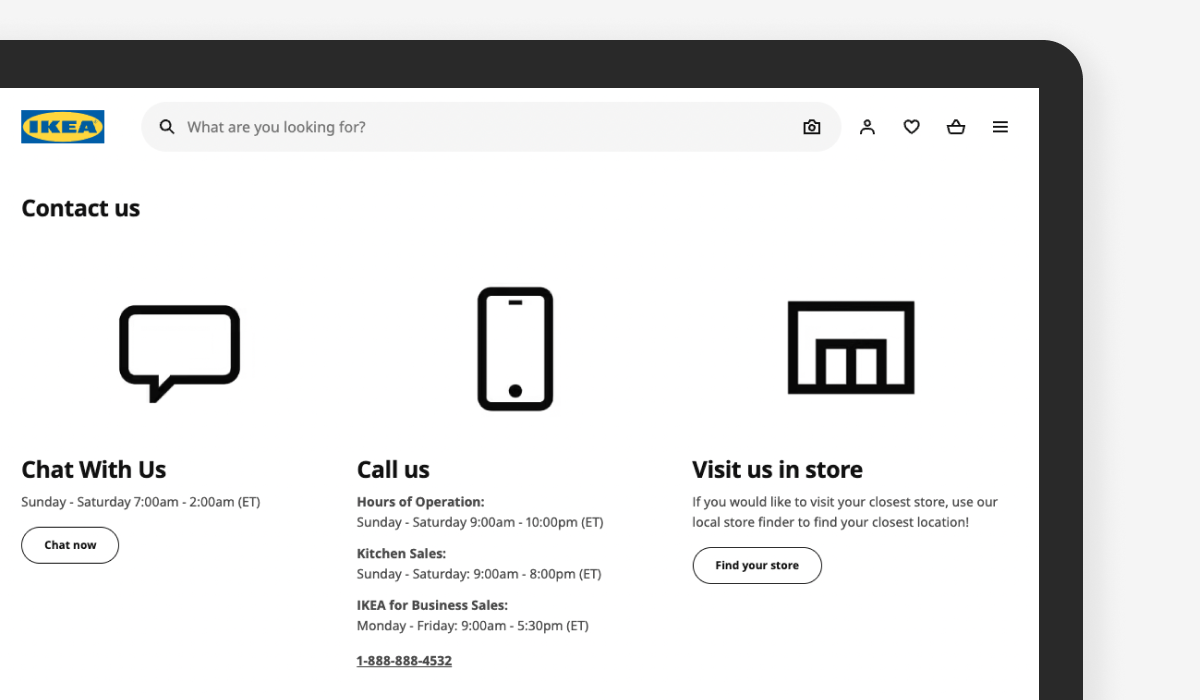 Research showed that IKEA presented all contact details at once – without understanding the intent of the user. Showing multiple contact options such as call, chat, and social media caused a lot of contacts that added up to long queue times which made customers unhappy and frustrated.
Insights: Organise topics based on "reasons for contact"
Based on findings from the result of a previous project, I had already defined seven main categories of the customer service section. In combination with insights into the top "reasons for contact", I conducted a tree test to find out if it would be possible for participants to connect the reasons for contact to one of the seven main categories.
With above 60% correct results the conclusion was that only minor details needed to be tweaked, such as duplicating issues into several relevant categories and highlighting one particular topic, which happened to be one of the top reasons for contact and where users had the right expectations (but that IKEA at the moment could not meet).
Prototyping and user testing: Step by step to find the solution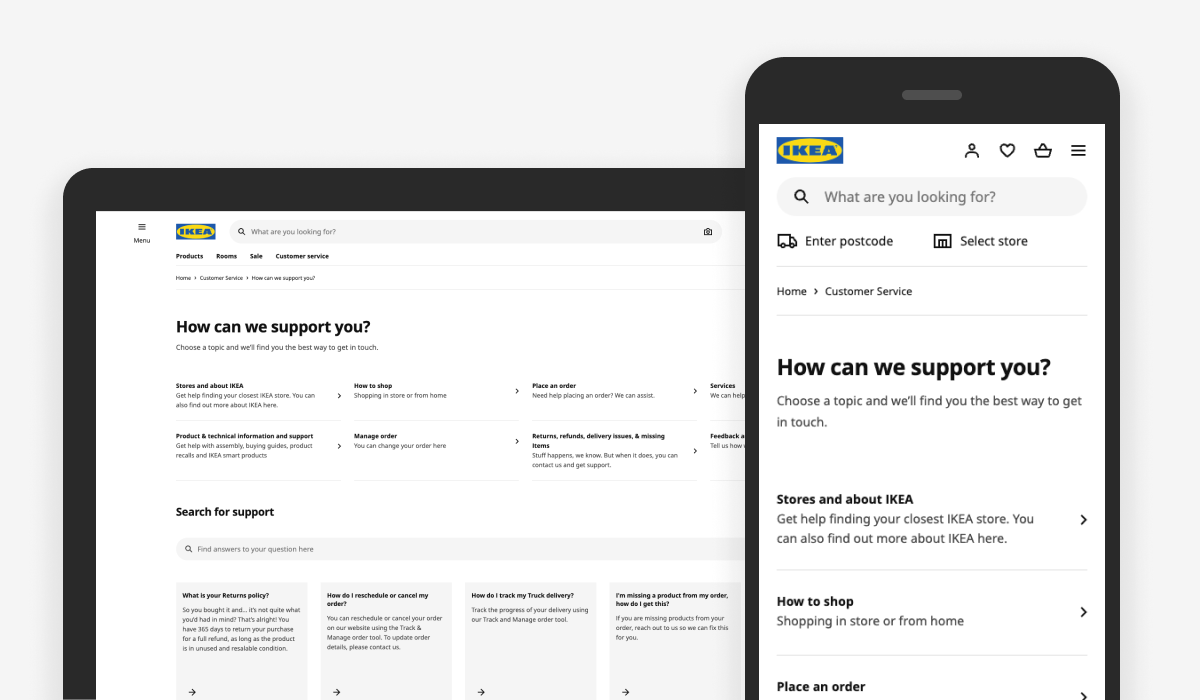 Based on Figma prototypes I made multiple users tests in Userzoom to test the concept that a user would with a few clicks go through the contact us routing when possible get recommendations on self-service tools or supporting webpages, and in the end, if nothing recommended was what the user was looking for, present the recommended way to reach out to IKEA, which in most cases was to chat with a co-worker but also to call or to send an email.
Options are very clearly displayed

Participant in Userzoom test
Quite nice this panel-based thing

Participant in Userzoom test
Easy to navigate even for being the first time

Participant in Userzoom test
With plenty of positive feedback, the biggest learning I got was to convince the customers that this is not a way to limit the possibilities to reach customer service – it should not be a game where the objective for you as a user is to find the phone number. And as well that the expectations should be clear, that it's not about how to contact IKEA, but rather how to get help with the issue.
Solution: A single page web app AND a strategy
The solution was a single-page web app made in React using Contentful as a CMS for the routing structure, the logic and copy for the different topics, and recommended contact methods. Phrase was used for the generic UI copy.
I made the UI design in Figma with design specs and follow-ups in close collaboration with the two developers.
The single-page web app was key in the solution, but to make it work it needed a solid strategy to support it. Based on the contact us routing I put together recommendations on:
how to steer users from the customer service lobby and contact us page
how to "catch" users that could not find the wanted information on customer service subpages
how to remove specific contact methods and channels from other web pages and FAQ articles
how to improve external communication in emails, text messages, etc to not focus on "contact us" but rather "help you to help yourself"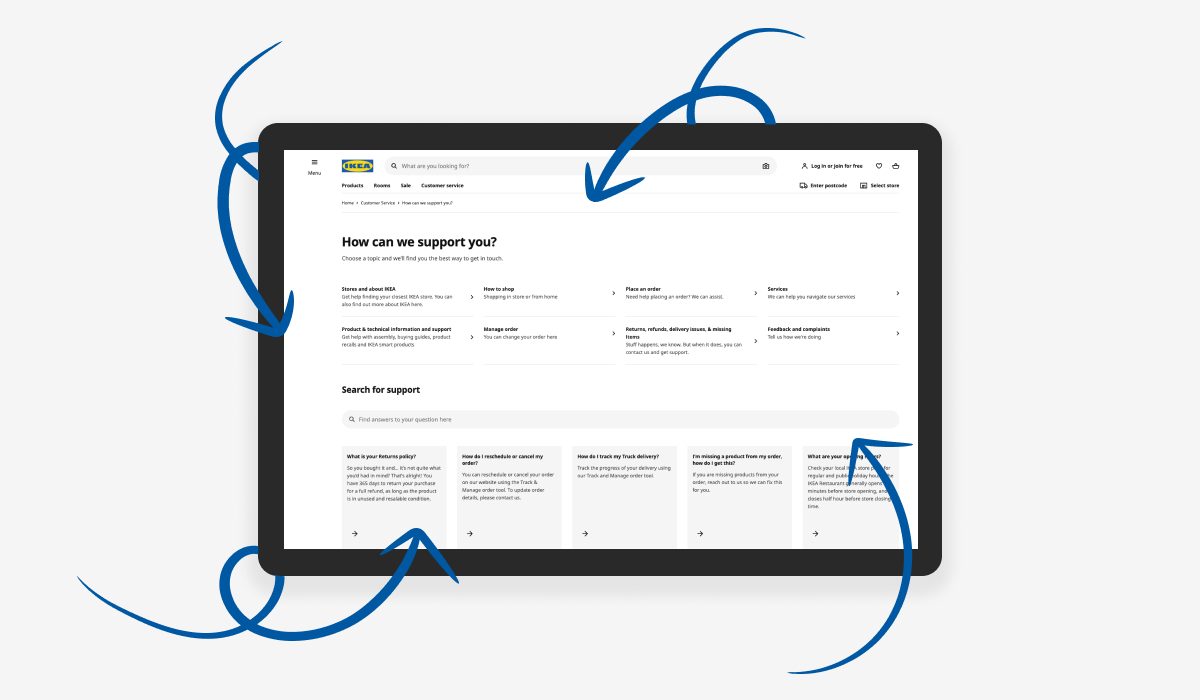 Launch and follow up: A/B testing in a market
In close collaboration with a market, we performed an A/B test where a percentage of users was exposed to an entry point to the contact us routing rather than seeing all the contact details.
The result was good not only for how the contact us routing worked but also for how customers perceived it and the effect it had on the number of contacts for IKEA helping out on the channel shift from calls to chat.
After the successful A/B test we went live in the test market as well as launched the contact us routing in more markets to learn, not only about the routing but also about what we as a team could learn about software updates and the possible different needs and expectations the other 31 markets could have.
Result and learnings
Decrease in calls and increase in self-service
From showing all contact options up front to instead bringing users into the contact us routing we could see:
80% drop in initiated calls from the Contact us page
a massive drop in exit and bounce rate that was interpreted as "hidden calls", i.e. users browse the page, see the phone number, and leave the page.
10% of the users that entered the contact us routing clicked on one of the recommended self-service solutions or recommended web pages.
From the launch date, we could also see a significant switch from calls to chat in the selected market.
Numbers are good but what do the customers say?
Satisfaction with live chat was as high after the launch as before – keep in mind they maybe came to IKEA to find the phone number – and were offered chat
60% agree that "chat was a great way to get help for the reason they visited IKEA today"
On a scale of 1-7, users answered on average 5,5 on the question "I would use this step-by-step solution again"
On a scale of 1-7, users answered on average 5,4 on the question "I thought this step-by-step solution was easy to use"