End of November I attended the MobX Conference in Berlin and became a lucky winner of a brand new, in Sweden not yet released, Nokia Lumia 800. Short summary of MobXCon in Swedish. The first Windows Phone 7 release from Nokia with the new "Mango" 7.5 OS version. In this post I will try to summarize my experiences from using the Lumia hands on.
Just to give you some background info of my previous smartphone experience. I bought a iPhone 2G 2007 and used that for more than two years, have had a iPhone 3GS after that, used a HTC Desire for about 9 months and right now I am using the Lumia and a iPhone 4S.
Unfortunatly its not possible to screen dump on WP7 (unless you developer unlock it for $99 and side load a 3rd party application) and I honestly believe that it is a big draw back for users not to be able to share screen dumps and spread the word about WP7. But I will try to illustrate my examples with some images from the official Windows Phone templates PSD.
Metro, the home of non sexy fake leather icons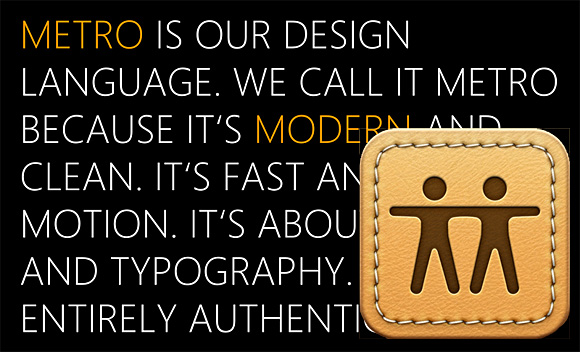 The whole idea of Metro is of course to not use fake leather icons with fake stitches etc. I think it's brave of Microsoft not to go down the same path like Apple and Android when it comes to icon based navigation. WP7 is all about the use of the typography. I like it! But. I am not the typical smartphone user and I wonder how the more typical customer/user like the absent of sexy icons and a full on image GUI. To be a success WP7 (and the manufacturers) needs to attract users that at the moment are using iPhone or Android. Only time will tell.
More swipes and less taps
For me WP7 is more about swipes than taps and I like that approach. However there are of course some draw backs. In iPhone and Android users usually can access an applications five major "sections" with just one tap. And that also gives the user a good overview of the available tasks right away. In WP7 a user needs to swipe left or right to see the available tasks. The problem is not only that a user needs to make more inputs (three swipes left to see the fourth task alternative instead of one tap in iPhone), the user doesn't know how many tasks are available. I have covered this problem in a previous post (Swedish).

The problem with a lot of tasks is hard to solve independent of OS. In iPhone if there are more than five sections, the iPhone automatically adds the "More" label to the fifth tab and tasks 5 to X are listed in a vertical scrollable list (the user has the option of moving tasks from the list to the tab bar replacing the default ones – a possibility not many users know of – and probably never use.
Inconsistency of the menu button

WP7 share som issues with Android when it comes to the menu button or context button (the three dots to the right in the application bar). Both is suffering from the "right click syndrome" i.e users doesn't know what tasks that are hidden there. At least in WP7 there is three dots indicating that something is there, in Android there is nothing telling the user if there are tasks hiding under the hardware Menu button.
Problem with WP7 is that even though the three dots are there, that doesn't always mean more options/tasks are available. Sometimes when you press the menu button only the labels of the application menu buttons are shown, like in the native Alarms application. If the button icons are a bit unclear to the user maybe a better solution would be to show the labels on launch and then with an animation hide the labels?
Different user pattern in SMS and email
When I had used the email application for a while WP7 politely informed me that it was possible to tap left of the  email title to select one or more emails to do tasks like delete several or move several emails to another folder (the same option is also available under the menu button). A nice, but not discoverable feature. Of course you imagine this functionality would be available in other apps with similar functionality like sms? No, it's not which surprised me a lot, both being native WP7 apps. Maybe this will functionality will show up in coming OS versions and also be supported in other 3rd party applications.
Subtle notifications
Notifications is a big part of a smartphone. For the user to be updated not only on new emails and sms, but also mentions on Twitter or Facebook, that friends checked in nearby on Foursquare, if a new app version is available or that a new OS version is available.
All notifications don't have the same value to the user though, and the billion dollar question is how to solve notifications – that easily can turn into a information overload. Former versions of iPhone treated all notifications a like, that improved in iOS5. Android has it's notification center as toast messages in the top of the screen. Recent notifications are always visible in the notification center.
WP7 doesn't have a notification center and relies heavily on the live tiles. Toast messages are, what I have noticed, only for sms. For some reason I can't click the message to unlock the handset and view the entire message, but it's is possible to swipe the toast message to the right to dismiss it. However the lock screen on WP7 gives you current status on missed calls, number of new emails or new sms.
I kind of like WP7 more subtle way to handle notifications because of my previous experience from iOS and Android. I however wish the live tiles could be even more alive in some way. And I see a problem with notifications on tiles "below the fold". Now only 8 small tiles are visible on the home screen without scrolling. Maybe a combination of better live tiles and a notification center would be a good solution?
Arranging and prioritizing of applications
WP7 "only" has two screens. The home screen with all the tiles, and the screen with all applications. I like this as well. Android support 7 screens but I didn't really use them all and didn't know how to arrange my apps or to find them later. However I guess the 7 screens probably is a good solution if you use a lot of widgets. iPhone supports 7 screens as well but it's also possible to sort applications (or Safari shortcuts) into folders. That is to messy for me, I have a total of 242 applications on my iPhone (most of the for UI/UX reference and this is probably not the case for the average user) and usually search for the application I am looking for.
I was a bit worried to start with when I saw the applications screen, how would find the application I am looking for without extensive scrolling? However after I installed some more applications a new feature appeared on the screen. All applications was now categorized under an clickable alphabetical button that opens up an alphabetical overview, click "T" and jump straight to all applications beginning with T.
If that isn't enough there is a search functionality in the applications screen as well. However that search functionality only search installed applications, not the entire handset (applications, sms, email etc) like the search functionality in iOS.
I still wonder how the home screen look when I keep adding tiles to it? Right now I have 42 tiles and the home screen looks and behaves the same. How will this be cared for both for newbies and super users?
Microsoft applications – Outlook, Internet Explorer and Bing
For me the biggest weaknesses of the WP7 is the "old" Microsoft applications. Outlook is behaving the same as it does in the PC and doesn't preload images in the email. I don't know why it's like that, but I do know that I Outlook doesn't have an option for me as a user to turn image preloading on. Outlook also arranges emails in threads without the option to turn that feature of.
Internet Explorer is not a modern web browser on the PC and I think the same goes for the mobile version in WP7. html5 support is limited and css3 as well. It also doesn't zoom in on the active part of a page (<div>) that both iOS and Android does.
My only concern with Bing, the default search engine on the hardware button is – I dont trust the search results. I say that with a ironic twist but I am serious. I do know Google is a competent search engine but I have no experience = trust in Bing and I think I share that lack of experience with 99% of the rest of you.
Nokia Lumia 800 – the hardware
Last but not least, the Nokia Lumia 800. I think Nokia has done a really good job with the design. It both feels and looks like a quality piece of hardware. The front glass is slightly concave towards the edge in a nice way. It's fast and rapid when scrolling, going back or switching between applications. A nice and bright screen with good colors but not close to the iPhone 4S of course. Battery time is the big concern as for any other smartphone and the Lumia needs to be charged once a day when using it normally.
So, thats it. A not so short summary of my first impressions from using Windows Phone. Normally I write in Swedish but this time I decided to write this post in English in case someone from east (Nokia/Finland) or west (Redmond/USA) happens to stumble upon it 🙂
I will keep using the Lumia in parallell with my iPhone 4S for a while so stay tuned for more comments in a new post.
---